Every cocktail party needs appetizers, to soak up the booze and keep party guests happy, but you can easily elevate your cocktail party by serving appetizers that are creative, delicious, and pair well with cocktails.
»Looking for some great cocktails to serve? You might like these White Rum Cocktails or these World Famous Cocktails.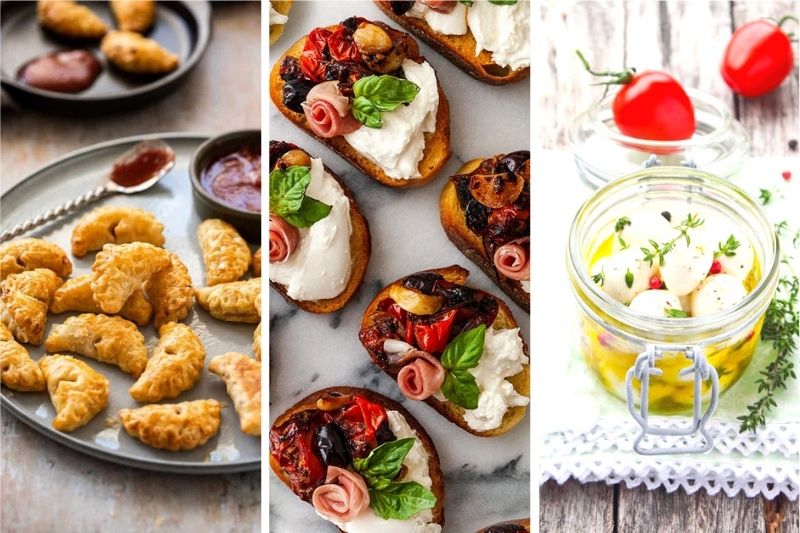 We've all been to those parties where the food is an after thought. It's really a lost opportunity to elevate your party. Food plays a big role in the success of a party, and it's important to put at least a little thought into what pairs well with the cocktails you'll be serving.
To help you forms some ideas for hor d'oeuvres and finger food that you can serve alongside the drinks at your party, we've put together a little guide. These recipes were collected from our colleagues. You can see the full recipe by clicking the link below each photo.
Cocktail Party Appetizers
Dark Chocolate Figs with Gorgonzola Cheese
These Dark Chocolate Figs with Gorgonzola Cheese are served as an appetizer or dessert, your guests will fall in love. The ingredients are simple, but they all work so well together. >> See the recipe
⚯ Pair these dark chocolate figs pair well with and Old Fashioned or Manhattan The sweetness and caramel notes of the whiskey/rye go well with gorgonzola cheese and dried fruit.
Irresistible Teriyaki Salmon Bites
These Teriyaki Salmon Bites are coated in a sweet teriyaki glaze and fried to perfection, then topped with sesame seeds and green onions, to make an irresistible appetizer.
Honey Goat Cheese Balls
Easy to make and so delicious, goat cheese balls are perfect cocktail party appetizers. The tangy, lemony flavors in goat cheese, as well as the grassy and herbaceous flavors, go well with gin. >> See the recipe
⚯ Pair these honey goat cheese balls with a fruity gin cocktail, like this Raspberry Lemon Gin & Tonic.
Marinated Mozzarella Balls
These Mozzarella balls are perfect for cocktail hour. Cheese always goes well with cocktails, beer, and wine, so you can't go wrong. But mozzarella pairs especially well with strawberry and black pepper, or anything smoky. It's alsoan easy finger food that you can eat while sipping. >> See the recipe
⚯ Pair these mozzarella balls with a strawberry & black pepper infused vodka or a smoky mezcal cocktail.
French Onion Bites
French Onion Bites are made with phyllo pastry and filled with sweet caramelized onions and Gruyere cheese just like the famous French onion soup we all love, but in appetizer form. >> See the recipe
Mini Bacon & Onion Pasties
Caramelized bacon and onion is encased in flaky puff pastry to make a delicious appetizer. These are perfect for a cocktail party because the sour citrus in a cocktail cuts through the fat in the pastry and bacon. Your guests will love this combo. >> See the recipe
⚯ These mini pasties pair well with a Smoky Mezcal Sour or a Mojito.
Pesto Crostini
Sliced baguette dressed with pesto, mozzarella, and proscuitto is an easy appetizer that can be eaten easily at a cocktail party. >> See the recipe
⚯ A margarita would go well with either arugula or basil pesto because of the vegetal herby flavors, which pair well with the lime. A vodka gimlet is also a good choice.
Puff Pastry Pinwheels with Prosciutto
These Puff Pastry Pinwheels are easy-to-make. Just roll up prosciutto and grated gruyère cheese in puff pastry dough, then slice and bake. The gruyère cheese has a mild and nutty, sweet flavor and goes well with many drinks, especially red wine. >> See the recipe
⚯ Gruyère pairs well with whiskey. Pair this appetizer with an Amaretto Sour or a Boulevardier.
Prosciutto-Wrapped Asparagus Spears
These prosciutto-wrapped asparagus spears make a great finger food for a cocktail party. They're easy to make and cook before the party, so you can have extra on hand to restock the plate, and they go well with a number of cocktails. >> See the recipe
⚯ Asparagus and bacon pair well with a Bloody Mary or Bloody Maria (which uses tequila instead of vodka). It also pairs well with a margarita or a smoky mezcal cocktail.
Mushroom Gruyere Tartlets
These cheesy baked Mushroom Gruyere Tartlets are easy to make and are an impressive appetizer for a party. The savory umami notes pair well with a number of cocktails. >> See the recipe
⚯ A Sidecar pairs perfectly with these mushroom tartlets. The aromas of citrus and cognac go well with mushroom.
Prosciutto-Wrapped Pears with Arugula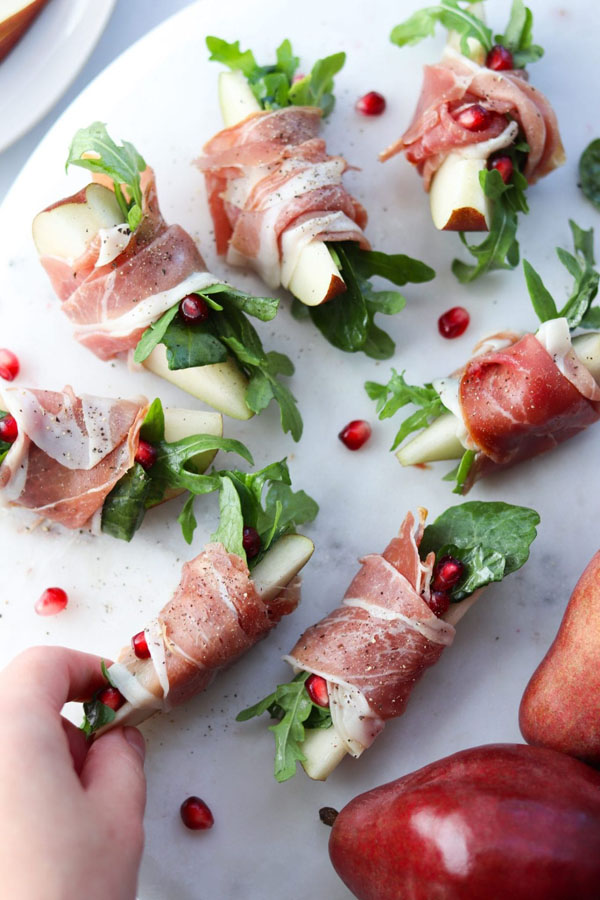 These little treats are deliciously sweet AND savory, which is a great pairing with any drink that uses simple syrup or tonic and lime. These are also a great choice for parties because they are gluten and dairy free, plus low-carb and Whole30. So there's something for everyone. >> See the recipe
⚯ A gin & tonic will go well with this appetizer and so will our Ginger Pear Martini.
Fig and Bacon Jam Crostini
These crostini are topped with creamy goat cheese, homemade bacon jam, and fresh figs. They make a great finger food for a cocktail party. >> See the recipe
⚯ Figs pair with all kinds of flavors, from tart fruit liqueurs to spicy ginger. With the bacon and goat cheese in this appetizer too, a perfect pairing is a Mezcal Sunset or a Smoky Mezcal Sour.
Sweet and Spicy Cream Cheese Dip
This Cream Cheese Dip appetizer recipe is a total snap to throw together in moments (like … 3 minutes flat)! It absolutely disappears every time, and everybody asks for the recipe! >> See the recipe
⚯ The salty flavor of soft cheeses, like cream cheese, pairs well with a mellow, slightly sweet liquor like rum mixed with a fruit juice. Try a Pineapple Rum Slush or a Mango Mojito.
Strawberry Caprese Skewers with Balsamic Glaze
You've probably never thought of pairing strawberries with cheese or balsamic before. It sounds like an odd pairing, but in reality strawberries pair beautifully with the rich balsamic glaze and fresh basil. >> See the recipe
⚯ Strawberry is an easy food to pair with cocktails. There are so many great summer cocktails that all go well with this appetizer. Also try a Daiquiri and a Strawberry Black Pepper Vodka Smash.
Cucumber Appetizer Bites
Cucumber Appetizers with Smoked Salmon (Gravlax) and Black Caviar are healthy appetizers. These easy Hors d'oeuvres or Zakuski are perfect for your next party. These Cucumber Bites don't require cooking, are low carb and gluten free. >> See the recipe
⚯ Smoked salmon and caviar is a fun cocktail pairing. The salty and smoky taste pair well with any Champagne cocktail, like a French 75 or a Kir Royale cocktail.
Bruschetta with Seared Tomatoes & Burrata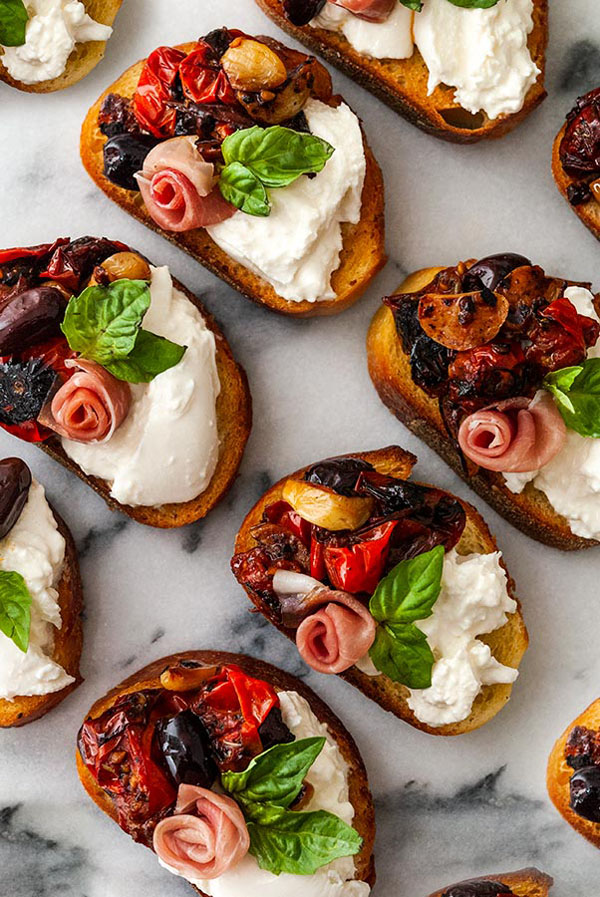 This delicious bruschetta recipe with seared cherry tomatoes, roasted garlic and burrata is a decadent antipasto that will dress up your cocktail party nicely. >> See the recipe
⚯ The subtle, warm flavor of orange liqueur makes an excellent pairing for the mild taste of burrata. A Tangerine Champagne cocktail will pair nicely with this appetizer.
Oysters Rockefeller Recipe
This Oysters Rockefeller Recipe is very old, said to have been invented by Antoine's Restaurant in New Orleans in 1840. They are so delicious and rich! Just like the Rockefellers! >> See the recipe
⚯ The most classic pairing with oysters is Champagne. The crisp fizziness of Champagne marries nicely with the brininess of oysters. It cuts through the richness and enhances the subtle flavors.
Devilled Avocado Quail Eggs
These adorable little devilled avocado quail eggs are great for cocktail parties. Everyone loves devilled eggs and these are just small enough to pop in your mouth as you hold a conversation. >> See the recipe
⚯ Citrus is a great pairing with avocado and it goes well with the richness of the devilled eggs, as well. Pair this fun appetizers with a mimosa or a pink grapefruit martini.
Before You Go
Delicious appetizers that pair well with great cocktails definitely make a statement. Your guests will be so impressed with the extra effort you put in. Here are a few more articles we think you might enjoy.
Like this post? We'd love for you to save it to your Pinterest board to share with others! FOLLOW US on Pinterest, Instagram, Facebook for more great recipes! If you made it, post a pic on Instagram and hashtag it #savoredsips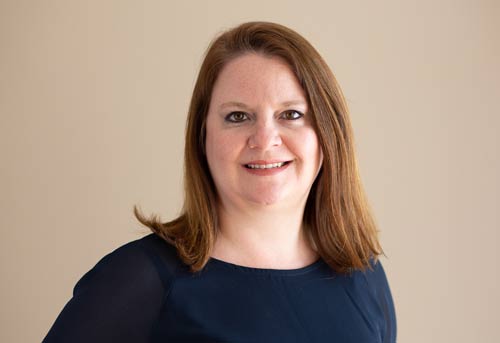 Laura is the founder and editor of the travel blogs Savored Sips and Savored Journeys. She is dedicated to sharing the best information about drinks found around the world.