In the cold weather, there's nothing better than sipping on a hot Irish Coffee. The Irish know how to drink their coffee, that's for sure! This rich and sweet whiskey-spiced coffee, topped with thick whipped cream, is the perfect winter elixir.
A good Irish coffee is both rich and stiff, without feeling that way as you drink it. That might sound strange, but think about it for a minute. When you sip an Irish Coffee, it's robust and boozy, but it just goes down so easy!
▷ If you are looking for more cocktails, try these Fall-Inspired Cocktails , Festive Holiday Cocktails or 8 Irish Whiskey Cocktails.
Irish Coffee is quite easy to make, but it's not as simple as just adding whiskey to coffee. There are steps to follow and tips that help make the drink as smooth and delicious as it should be.
Read on to learn the secrets to the perfect Irish Coffee
Irish Coffee Ingredients
Brown sugar
Whiskey
Strongly brewed coffee
Heavy whipping cream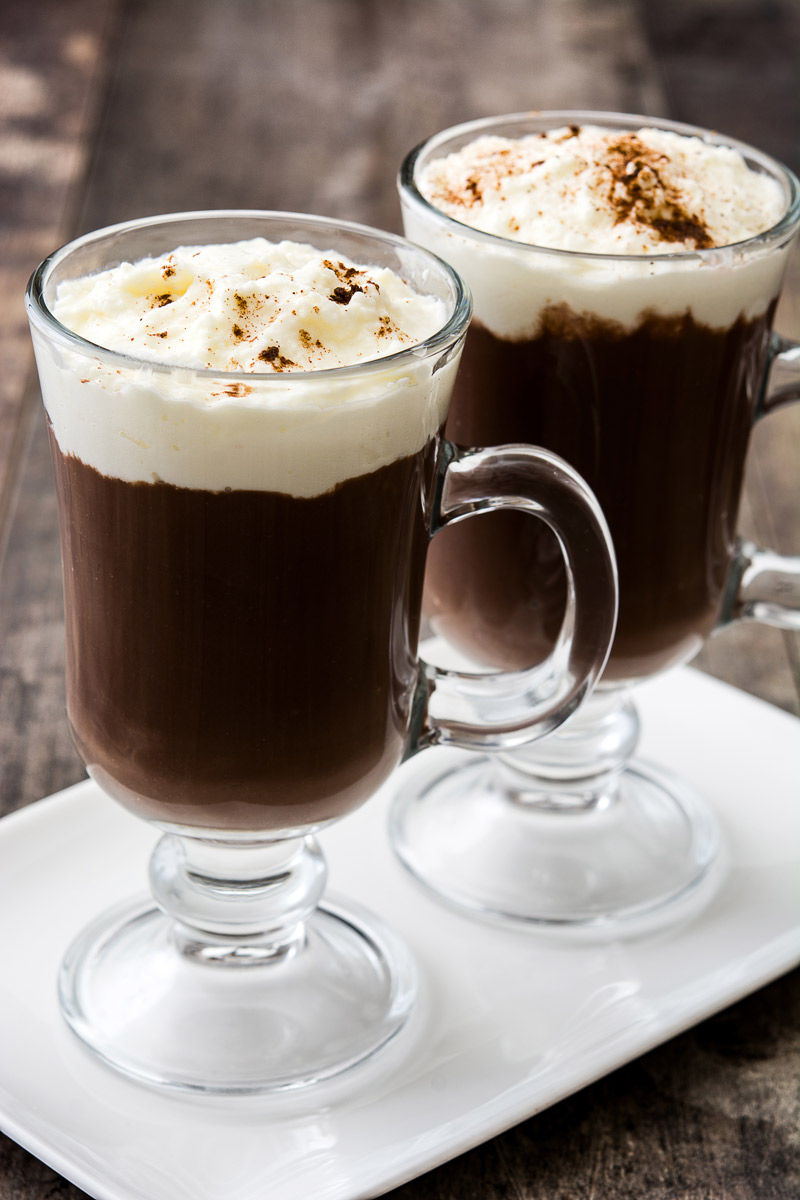 What Glass is Perfect for an Irish Coffee?
While you can use any mug you have, there is a perfect glass to use for an Irish Coffee and we'd be remiss not to tell you about it.
A lot of the magic of an Irish Coffee comes from the mug. It's best served in a glass mug that is tall and not too big. Since you only use 4 oz of coffee, 1 1/2 oz of whiskey, and a whipped cream topper, there's no need to use a mug that's bigger than 6 to 8 oz.
A larger mug might encourage you to use more coffee, which would throw off the balance of the drink.
These 7.75 oz glass mugs that you can buy on Amazon are the perfect size and shape for an Irish Coffee.
What Coffee to Use
You don't want the coffee to overpower the balance of the drink, so a medium-roast Colombian coffee blend is a great choice for this drink.
However, any medium-roast coffee will work. Make sure it's brewed strong and that it's piping hot when you begin to make the drink.
Note that espresso is to strong and bold for an Irish Coffee.
What Whiskey to Use
Well, it's an Irish drink, so an Irish whiskey is appropriate, we think! Jameson's Irish Whiskey is always a good choice, as is Bushmill's Original.
Any whiskey with more spicy and vanilla notes and a smooth finish will work well. We use Jameson's for all of our Irish Whiskey drinks, and we add it to our homemade Irish cream too. It's got great flavor and balance, so you really can't go wrong.
★ You can get this and many other liquors delivered to your door from Saucey $5 OFF your first order + free delivery with code SAS) or Drizly ($5 OFF your first order of $20+ through this link). Only valid in select states. ☺
What Sugar to Use
I prefer to use brown sugar because I always have it on hand. It lends a caramelly richness to the coffee, so it's preferred over regular white sugar. You can use light or dark brown sugar. Raw cane sugar can work as well.
If you're tempted to leave the sugar out because you don't like sweet coffee, you've chosen the wrong drink. The sugar is necessary in this drink, so please don't leave it out.
It's what makes this drink an Irish Coffee and not just spiked coffee. It also helps the cream float on the top of the drink, even as you drink it. Without the sugar, the cream would just fall into the drink.
How to Make an Irish Coffee
First, fill the mug with hot water and let it sit for a few minutes to warm the glass. This will help ensure that the drink doesn't go lukewarm as soon as it's added to the glass.
While the mug is warming, whip the cream until soft peaks form.
When you're ready to go, pour the hot water out of the mug. Add the brown sugar to the mug. Top it with the coffee and the whiskey. Stir until the sugar is completely dissolved.
Top the drink with a couple of spoonfuls of the whipped cream. It should form about a 1″ head. Sprinkle with nutmeg and serve.
>> For more warm fall drinks try these one of these. There are alcoholic and non-alcoholics options.
Like this recipe? We'd love for you to save it to your Pinterest board to share with others! FOLLOW US on Pinterest, Instagram, Facebook for more great recipes! If you made it, post a pic on Instagram and hashtag it #savoredsips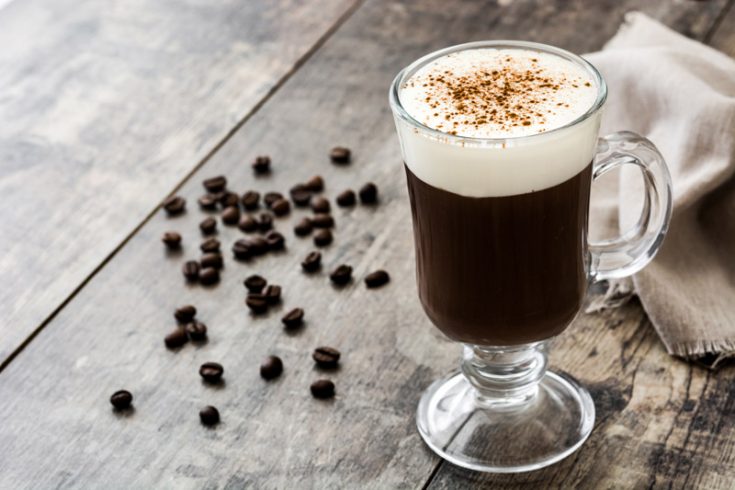 Yield:

1 drink
Irish Coffee
This rich and sweet whiskey-spiced Irish Coffee is topped with thick whipped cream.
Ingredients
4 oz hot brewed coffee (medium or dark roast)
1.5 oz Irish whiskey
2 tsp brown sugar
1 oz heavy cream
Instructions
Warm the glass by pouring in hot water and letting it sit for a few minutes.
Meanwhile, whip the cream until soft peaks form.
Pour the hot water out of the mug. Add the coffee, whiskey, and brown sugar to the mug and stir until the sugar is dissolved.
Top with an inch of whipped cream. Sprinkle with nutmeg as a garnish.
Notes
Medium or dark roast filter-brewed or French press coffee is best. Avoid espresso as it's too bitter for this drink.
Recommended Products
As an Amazon Associate and member of other affiliate programs, I earn from qualifying purchases.
Nutrition Information:
Yield:
1
Serving Size:
1
Amount Per Serving:
Calories:

226
Total Fat:

11g
Saturated Fat:

7g
Trans Fat:

0g
Unsaturated Fat:

3g
Cholesterol:

34mg
Sodium:

13mg
Carbohydrates:

8g
Fiber:

0g
Sugar:

8g
Protein:

1g
Pin it for later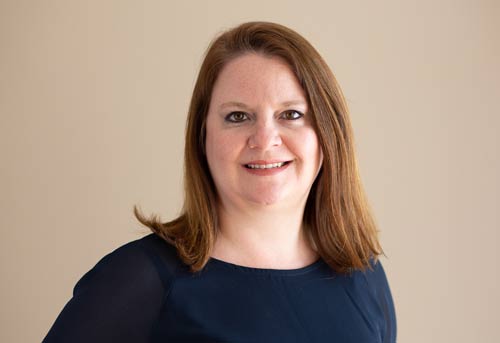 Laura is the founder and editor of the travel blogs Savored Sips and Savored Journeys. She is dedicated to sharing the best information about drinks found around the world.