This Prosciutto & Pear Pizza is a wonderful mix of textures and flavors, blending savory Prosciutto and caramelized onions, with sweet pears and blue cheese.
»Love prosciutto? You will love these Prosciutto and Melon Appetizer Skewers! For even more prosciutto check out these 12 Appetizers with Prosciutto.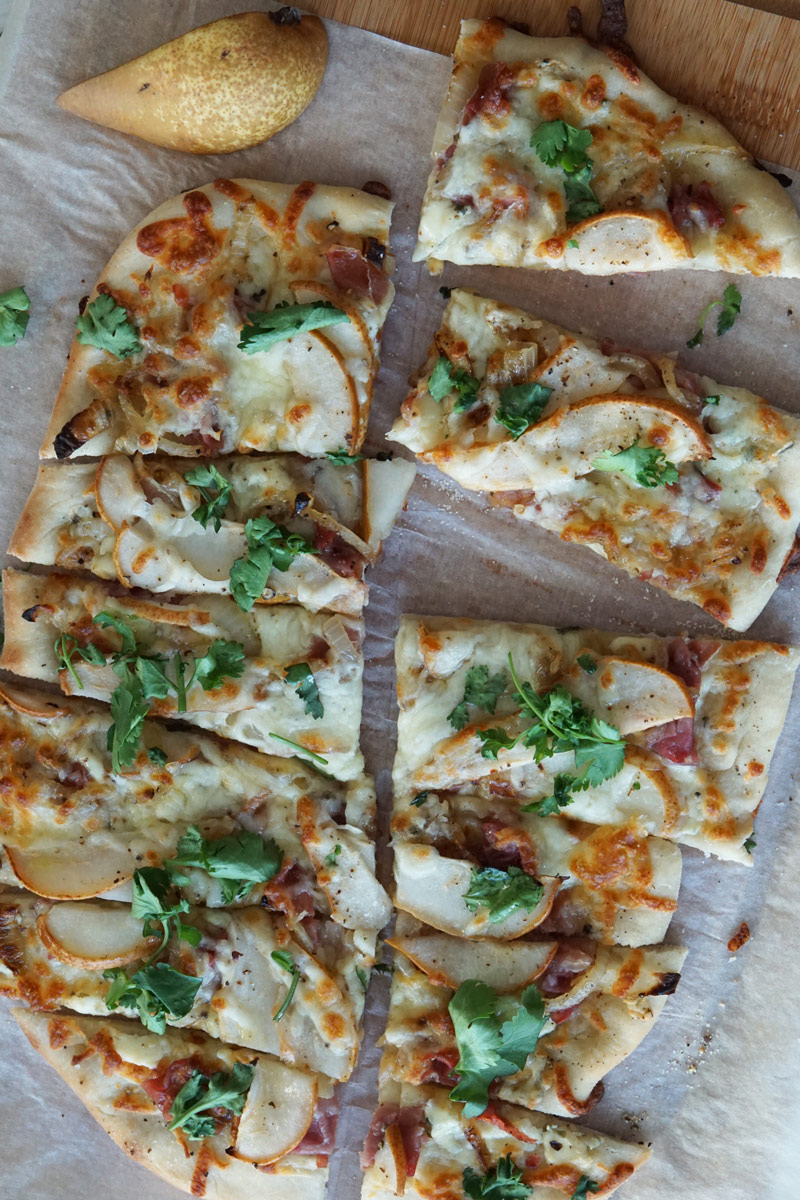 This combination of pears, bubbling mozzarella and blue cheeses, prosciutto and arugula is so great that you'll be wanting more as soon as you finish the first one.
If you're looking for something to serve at your next cocktail party, or just for a quiet night in, this pizza is the perfect thing to serve. These flavors pair well with white wine or citrusy cocktails and will wow your guests.
The sweetness of the pears really adds a new level of depth to this pizza. Even if you don't like pineapple on pizza, I beg you to try it with pears. Paired with the crisp arugula and caramelized onions is a perfect match and it makes for a new favorite pizza flavor.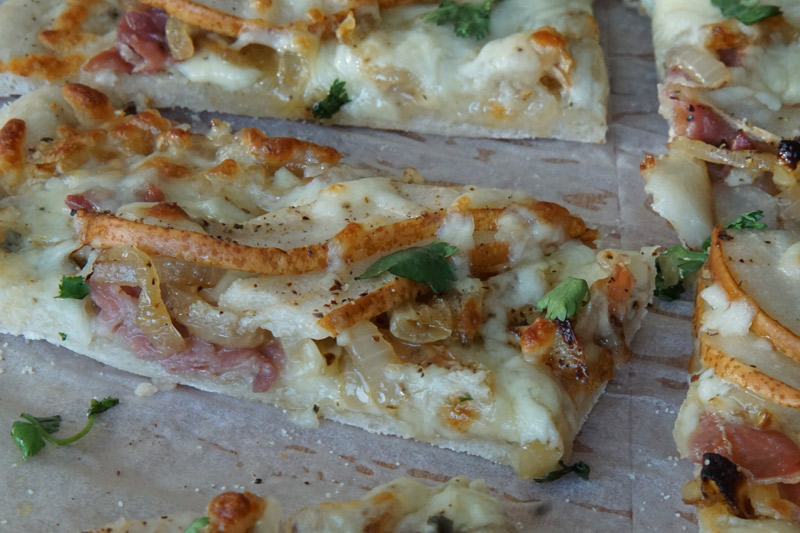 How to Make Prosciutto & Pear Pizza
First, preheat your oven to 450 F.
Grab your premade pizza dough – you can either buy the dough from a grocery store or make your own in advance – flour a surface to roll the dough out on. Roll your dough out to whatever thickness is your preference, then transfer it onto a piece of parchment paper.
Drizzle on half of the olive oil and spread it all the way to the edges of your dough. Using a pastry brush will make this easier, but you can also use a spatula or spoon. Sprinkle the dough with salt and pepper.
Slice the onion and place them into a pan with the remainder of the olive oil. Cook until the onions are slightly caramelized, around eight minutes.
Spread mozzarella across the whole crust, then top with mozzarella cheese, onions, blue cheese, and pears. Bake for ten to fifteen minutes, or until everything is bubbly and browned.
To top the pizza, you can use fresh arugula or chopped cilantro. I've never been a big fan of arugula – it's so bitter! – so I always use cilantro. The choice is up to you. Don't skip the fresh topping though. It adds a really nice crunch and freshness to the pizza.
Additional Pear and Prosciutto Pizza Tips
You can use any type of pear that you want. Bartlett pears or Asian pears are great because of they're slightly crisp and not overly sweet.
I always splash the pear slices with lemon juice to keep them from getting brown from oxidation.
I use crumbled blue cheese on this pizza. If you want to substitute with gorgonzola or stilton, that's cool too.
Like this recipe? We'd love for you to save it to your Pinterest board to share with others! FOLLOW US on Pinterest, Instagram, Facebook for more great recipes! If you made it, post a pic on Instagram and hashtag it #savoredsips
Yield:

2 servings
Prosciutto & Pear Pizza
This Prosciutto & Pear Pizza is a wonderful mix of textures and flavors, blending caramelized onions, savory prosciutto, blue cheese and sweet pears.
Ingredients
1 pizza dough
2 tsp olive oil
Salt & ground black pepper
1/2 onion, thinly sliced
1/2 cup shredded mozzarella cheese
1/4 cup crumbled blue cheese
1/2 pear, thinly sliced
4 slices of prosciutto, sliced
½ cup fresh arugula or cilantro
Instructions
Preheat oven to 450 degrees.
Roll out the pizza dough to your preferred thickness and place on a piece of parchment paper. Drizzle half of the olive oil on the dough and brush to coat. Sprinkle with salt and ground black pepper.
Add the remaining olive oil to a pan over medium heat. Add the onions and cook until caramelized, about 8 minutes.
Spread the mozzarella cheese out evenly on the pizza dough. Top with onions, blue cheese, pear and prosciutto.
Bake for 10-15 minutes, or until the crust is golden and the cheese is bubbly.
Serve with fresh arugula or cilantro on top.
Recommended Products
As an Amazon Associate and member of other affiliate programs, I earn from qualifying purchases.
Nutrition Information:
Yield:
2
Serving Size:
1
Amount Per Serving:
Calories:

351
Total Fat:

19g
Saturated Fat:

8g
Trans Fat:

0g
Unsaturated Fat:

10g
Cholesterol:

66mg
Sodium:

2213mg
Carbohydrates:

19g
Fiber:

2g
Sugar:

6g
Protein:

26g
Like it? Pin it to share it on Pinterest!
Jillian attends college in a small town in Oregon, where she's is pursuing her passion for people. She enjoys music, writing, and baking in her spare time.