This Baked Feta Tomato Dip with bright juicy cherry tomatoes and creamy delicious feta cheese is a thing of perfection. You will not be able to resist the aroma or the incredible flavor of this dip.
» Make sure to try these Steak Crostini with Horseradish Spread and Bacon Wrapped Shrimp.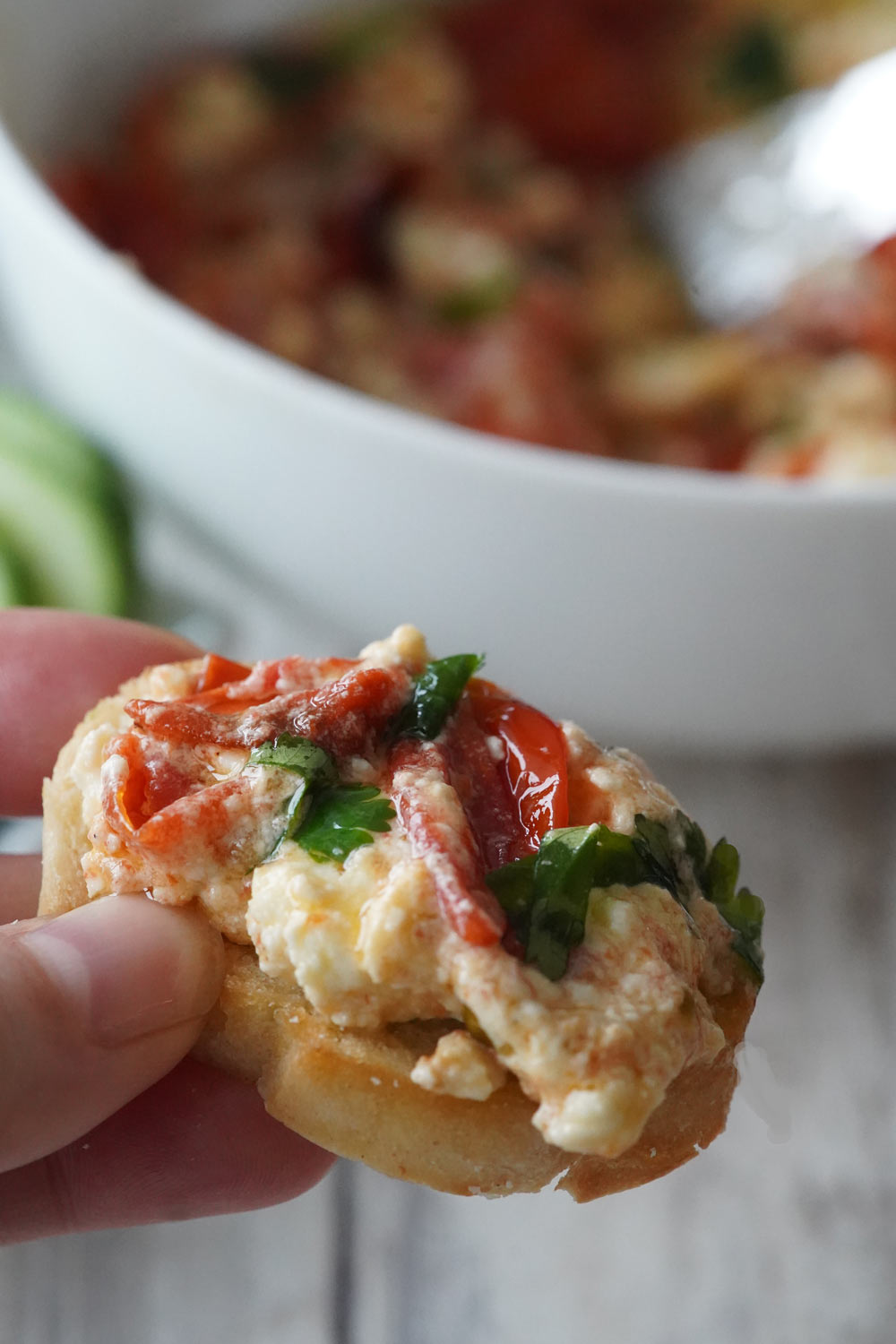 Sometime mid 2020 there was a Tik Tok video about this baked feta and tomato pasta that took the social network by storm. Everyone was talking about it! But this recipe has been a favorite in Greece for centuries. It's called Bouyourdi.
Bouyourdi is made with fresh tomatoes, feta, onions, and olive oil all baked together to make a really satisfying dip that is served over grilled vegetables or with bread. It's amazingly good, just like this baked feta tomato dip.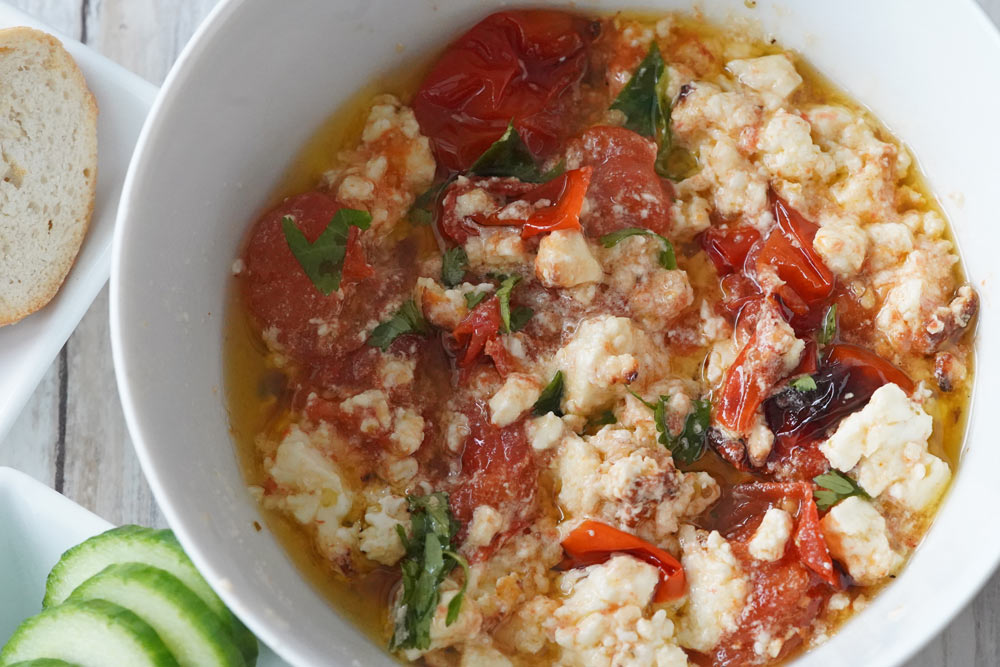 Ingredients You Need
You should aim to use the best quality ingredients you can for this dish. The higher quality the tomatoes, feta and olive oil, the better the dish will be. If you use tomatoes that aren't very ripe and don't look great, or you use a low-quality olive oil, or a low-fat feta, it's just not going to be very good.
Cherry tomatoes – You can use any variety of tomatoes, but make sure they're firm and ripe!
Feta cheese – Full-fat feta is the only way to go here. Buy a high-quality Greek or Cypriot feta, if you can.
Extra Virgin Olive oil – Also go high quality here. A spicy, flavorful Italian or Greek olive oil is best.
Salt & pepper
Basil – Throwing on some freshly slices basil at the end makes this dip really come alive.
How to Make Baked Feta & Tomato Dip
Star by preheating the oven to 400° F. It seems pretty high for this dish, but it's important in order to roast the tomatoes and leave a bit of char on them and the feta as they cook. Maximum flavor!
Pour the tomatoes into a 9″x13″ oven-safe dish. Add the olive oil and stir the tomatoes to coat them in the oil. Drop the block of feta right into the middle of the tomatoes. It starts out as a thick, hard block, but by the time it's cooked, it's a creamy and rich cheese that blends right in with the tomatoes.
Sprinkle the whole dish with salt and pepper and put it in the oven. It needs to bake for 30 minutes. I've seen some instructions that say you should increase the temperature in the oven for the last 10 minutes, but I don't think it's necessary. The tomatoes and cheese got nice and browned on the tops. Any hotter and they might really burn.
When the tomatoes and feta are done, take the dish out of the oven and add chopped basil. Stir – or "fold" – it all together. I don't like to stir too much because the sauce just becomes a cream sauce. You want to preserve some of the crumbles of feta, rather than mixing it all in.
As the dish sits for a few minutes, it will firm up and turn into a perfectly spreadable, creamy dip that can be slathered onto crostini, crackers, or this cheesy pull-apart bread.
The aroma of the dip fills the house and it's a truly irresistible dip. If you're having a party or want to serve a really buzz-worthy appetizer at a dinner party, this is the one.
Substitutions
It's really important to use cherry tomatoes for the best, most vibrant flavor, but you can use canned cherry tomatoes (drained well) if you absolutely have to. Chopped fresh vine tomatoes would be the better choice.
You don't have to use basil. It can be subbed with thyme or oregano, which are both quite good in this recipe. You don't need to add as much. Add 1-2 sprigs of fresh thyme or oregano. Or use 1/2 a teaspoon dried.
The feta cheese is the star of the show, so I don't recommend substituting it with any other type of cheese. In fact, you should find the highest-quality feta you can. I also don't recommend using low or no-fat feta. It's just not the same.
Likewise, I wouldn't use a different type of oil. The highest quality Extra Virgin olive oil you have will yield the best result.
Like this post? We'd love for you to save it to your Pinterest board to share with others! FOLLOW US on Pinterest, Instagram, Facebook for more great recipes! If you made it, post a pic on Instagram and hashtag it #savoredsips
Yield:

10 servings
Baked Feta & Tomato Dip
This Baked Feta & Tomato Dip with bright juicy cherry tomatoes and creamy delicious feta cheese is a thing of perfection.
Ingredients
20 ounces cherry tomatoes
1/4 cup olive oil
8 ounces block of feta
Salt and pepper to taste
1/4 cup fresh basil, roughly chopped
Red pepper flakes, optional
Instructions
Preheat oven to 400 degrees F (200C).
Pour tomatoes into a 9" x 13" oven-proof baking dish. Add olive oil and stir to coat. Place the block of feta into the middle. Sprinkle with salt and pepper and bake for 30 minutes.
When done, remove the dish from the oven. Add the chopped basil. Stir carefully to combine. Avoid over-stirring. Some bits of feta should remain.
Serve with crostini, crackers, and cucumbers.
Notes
You can bake this in the air fryer, if you want. Place all the ingredients into an air fryer-safe dish. Set the dish inside the air fryer basket. Cook on 400 degrees F for 15 minutes.
Nutrition Information:
Yield:
10
Serving Size:
1
Amount Per Serving:
Calories:

119
Total Fat:

10g
Saturated Fat:

4g
Trans Fat:

0g
Unsaturated Fat:

6g
Cholesterol:

20mg
Sodium:

241mg
Carbohydrates:

3g
Fiber:

1g
Sugar:

2g
Protein:

4g
Like this recipe? Save it for later.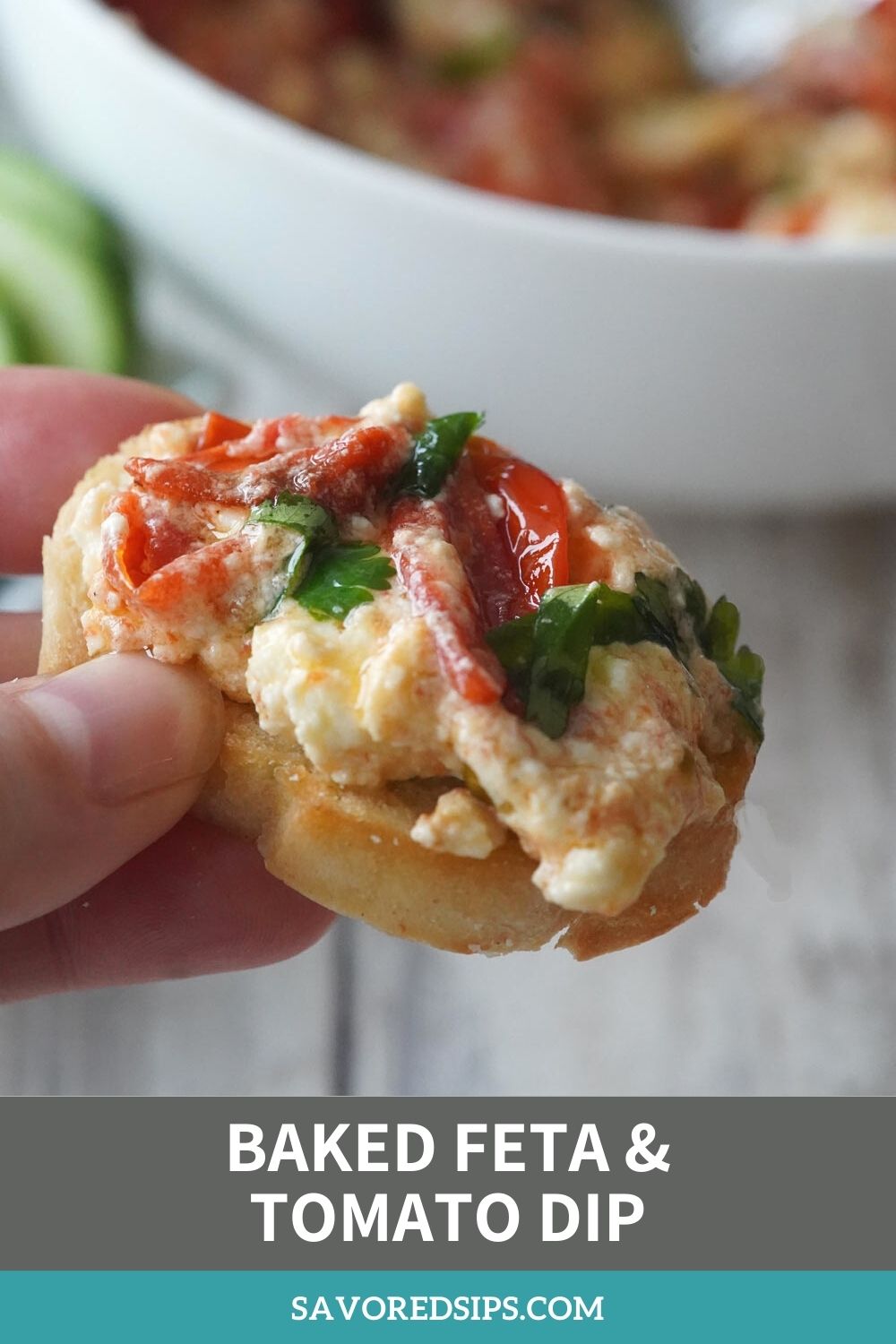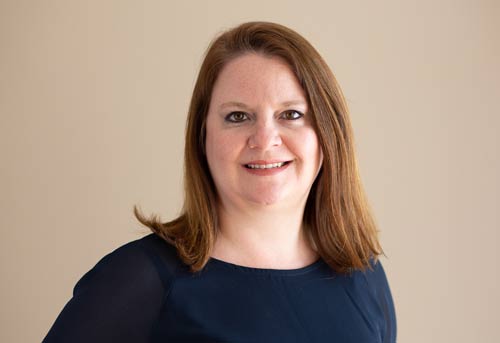 Laura is the founder and editor of the travel blogs Savored Sips and Savored Journeys. She is dedicated to sharing the best information about drinks found around the world.