Wine lovers visiting Paris often choose to take a day trip to Reims for Champagne tasting. Getting there via train from Paris is actually very easy and quick. Then you'll have the rest of the day to enjoy the bubbles at a few of the top Champagne houses in Reims.
Reims is the center of the Champagne world in France. You can visit world-famous estates, such as Veuve Clicquot, Pommery, and Taittinger, or check out the smaller Champagne houses you may not have heard of.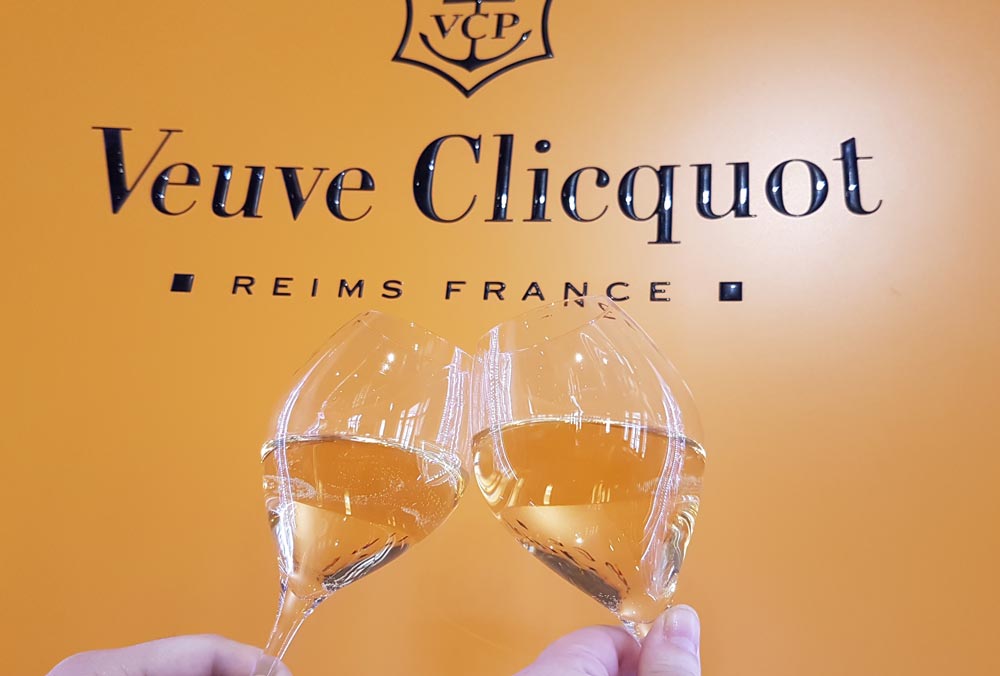 All you'll need are a few advanced appointments, your walking shoes (or a quick Uber ride), and enough time to do it justice.
Below you'll find all you need to know about setting up and enjoying Champagne tours and tasting in Reims.
5 Best Champagne Houses in Reims to Visit
1. Veuve Clicquot
You've likely already heard of this Champagne brand, as it's one of the most popular Champagnes being sold around the world. In case you're thinking that means it's not worth a visit to this Champagne house because it will be too touristy, we don't think that's an issue.
In fact, this was one of our favorite Champagne tours in Reims. The underground cellars of Veuve Clicquot might be one of the main reasons we love it here so much. The cellars are classified as a UNESCO World Heritage sight.
That's not surprising when you learn that they've been making wine since 1772. In 1909, they bought these old underground quarrys to store their wine. There is some fascinating history in these caves, which you'll learn all about during the tour.
After the tour of the cellar and facilities, you'll have a chance to try the Champagne. There are a few different tickets you can purchase. Click here to see them all and book online.
Discovery Tour – 26€: 45min tour followed by a single tasting of Yellow Label Brut 26€. This tour is available Tuesday to Saturday.
On the Footsteps of Madame Clicquot – 53€: 1 hr tour where you'll learn all about Madame Clicquot, followed by a tasting of the Brut Yellow Label and prestige Cuvée La Grande Dame.
Veuve Clicquot & Rose Champagne – 40€: In 1818, Madame Clicquot was the first to make a rose champagne blend, which changed the landscape of Champagne for ever. Learn all about the Rose on this 45 min tour, followed by a tasting.
More Information
Location: 1 Place des Droits de l'Homme, 51100 Reims, France
Hours: Tuesday to Saturday 10am-5pm
Phone: +33 (0)3 26 89 53 90
Email:visitscenter@veuve-clicquot.fr
2. Champagne Pommery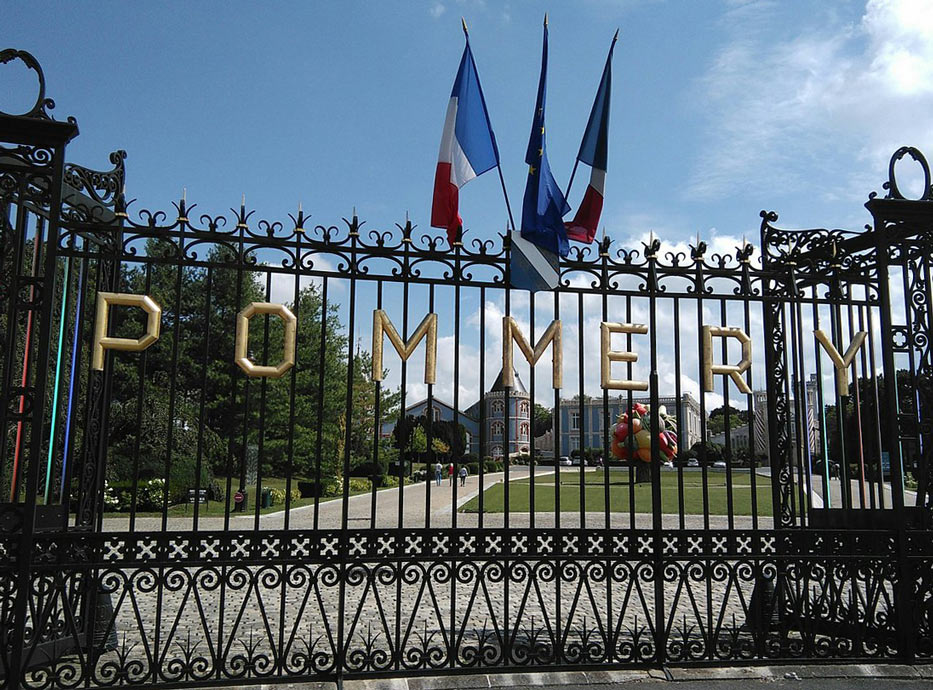 The Pommery Elizabethan-style estate was built in the 19th century by the lady of the house, Jeanne Pommery. It is one of the most archtecturally stunning estates you can visit today. Pommery is also one of the biggest Champagne house today, producing over 500,000 cases of Champagne a year.
You'll definitely want to stop here for a tour to see the ancient Roman caves and art nouveau tasting rooms. The chalk cave cellars are equally impressive, and can be access from an incredible staircase worth seeing – it's 116 steps down to the cellars!
Your tour will end with a tasting of one of the famous Pommery Champagnes. There are various tours you can take at Pommery. Be sure to book in advance. The tours are given in English, French, and German.
"Art of Champagne" Caves – 22€-30€: 1 hour tour of the Gallo-Roman chalk cellars, with explanations of the history, wine development of Pommery, plus a visit to the contemporary art exhibit, followed by a tasting. Choice of 1 glass for 22€, cuvee experience for 26€ or 2 glasses for 30€.
Henry Vasnier's Dream – 35€ 90 minute tour that follows the dream of Henry Vasnier, right arm man to Mrs. Pommery and patron of the City of Reims. Includes a visit of the Pommery Cellars and the Villa Demoiselle. Includes a 2-glass tasting.
More Information
Location: Place General Gouraud, 51100, Reims, France
Hours: Early April to mid-November: every day 9:30am-7pm. Mid-November to late March: every day 10am-6pm
Phone: +33(0)3.26.61.62.56
Email: visites@vrankenpommery.fr
3. Champagne Taittinger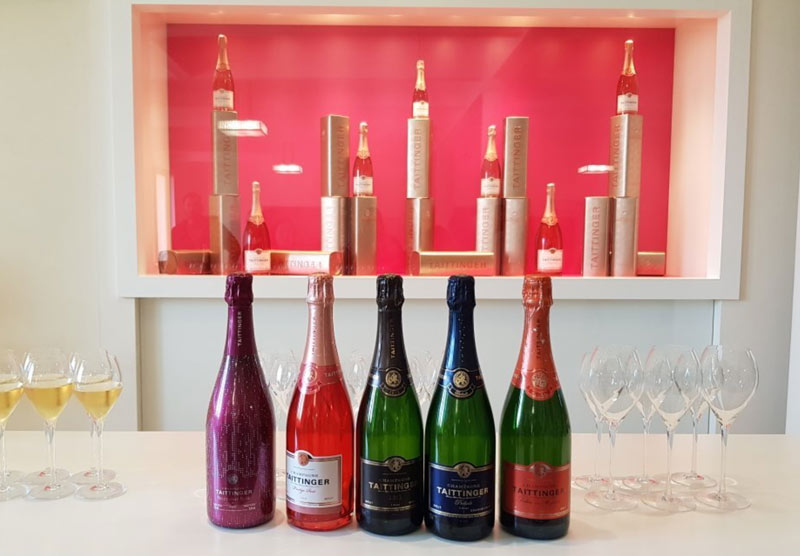 The impressive entrance gates set the scene of this classic Champagne House. Make sure you have your cameras ready because it doesn't stop there. The tour starts with an informative video of the history of Taittinger and it's Champagne-making style.
You'll then get to go down inside the impressive 4th century chalk mines, which have recently been designated a UNESCO World Heritage Site. You'll walk through the remnants of the old Saint Nicaise Abbey, dating back to the 13th century, then descend to 18 meters below ground to see the chalk caves where the Champagne is aged for a number of years before being sold.
Tours are given in English and French. You can also book a group tour in German or Spanish. Available tours include the following and can be booked online here:
Tour + Brut Réserve tasting (19€)
Tour + 2 glasses tasting (30€)
Tour + Brut Réserve & Comtes de Champagne tasting (40€)
Tour + 3 glasses tasting (45€)
Tour + Comtes de Champagne Blanc & Comtes de Champagne Rosé tasting (55€)
More Information
Location: 9 Place Saint Nicaise, 51100, Reims, France
Hours: Daily 9:30am-5:30pm
Phone:+33 3 26 85 45 35
4. Champagne GH Martel & Co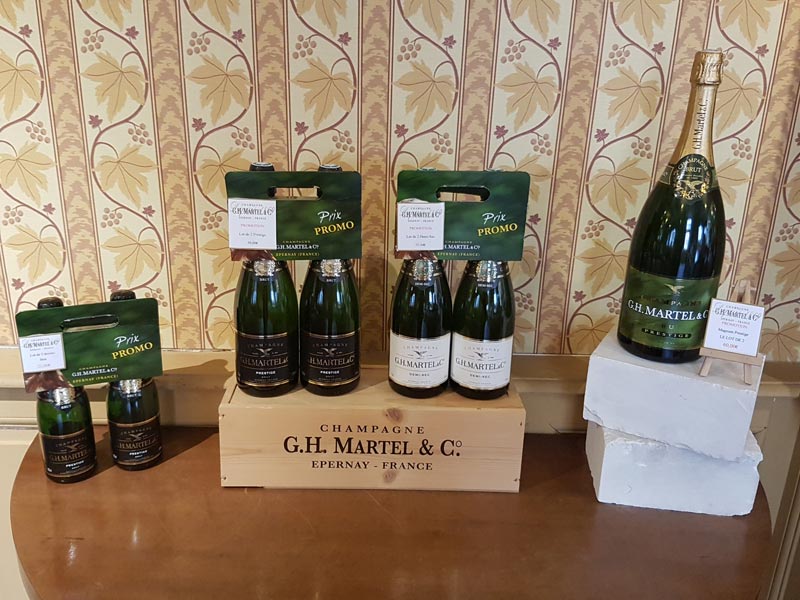 Located just around the corner from Veuve Clicquot and Taitttinger is another top Champagne house that offers tours and tastings: GH Martel & Co. This Champagne house also has a medieval chalk quarries, which was dug between the 4th and 15th centuries, and it is open to the public for tours.
As you descend into the cellar, at a depth of up to 22 meters, you'll see their interesting collection of wine-making tools and machinery. The tour begins with a film, then leads you through the cellars and the ecomuseum, and then to their shop where you'll taste 3 Champagnes.
They often have specials and deals available on their large range of wines, in case you're looking for some steals to take back home with you. The tour and tasting takes about 1 hour. If you don't have the time for a full tour, you can stop into the wine shop for a tasting at any time.
There are a few different flights to choose from ranging from 12-20€ Be sure to book your tour ahead of time by contacting the shop via phone or email.
More Information
Location: 17 rue des Creneaux, 51100, Reims, France
Hours: Daily 10am-1pm and 2pm-7pm. Tours in French and English until 5:30pm
Phone: +33 (0) 3 26 82 70 67
Email: boutique@champagnemartel.com
5. Celliers Ruinart
I've always loved the shape and elegance of the Ruinart Champagne bottle. It's a work of art and truly expresses the way it should feel to drink a fine Champagne. Visiting the Ruinart cellars in Reims is very much like that bottle. It's an elegant and luxury experience that you won't soon forget.
At Celliers Ruinart, you'll be able to do a guided tour of the cellars, which includes some history of the house and the process of champagne making, followed by the tasting of two cuvées: Don Ruinart and one Millesime (rose or blanc de blanc). It's a fascinating tour for history, art, architecture and wine lovers.
The house is one of the oldest and the cellars are up to 40 meters deep, which makes them the deepest in Reims. The entire affair lasts around 2 hours. Tours are conducted in French and English. You can arrange a tour in another language by emailing in advance.
The Crayeres Tour – (70€) – "A tour of the Crayères, or chalk quarries, classified as a historical monument in 1931, is a truly unique experience and invitation to discover an atmosphere of silent intimacy reigning in Maison Ruinart's cellars." To book, visit their website.
More Information
Location: 4 rue des Crayeres, 51100, Reims, France
Hours: Daily 9am-noon, 2pm-5pm
Phone: +33 3 26 77 51 51
Email: visitesruinart@ruinart.com
How to Get from Paris to Reims
You can get to Reims from Paris by taking the TGV train. From anywhere in Paris, just get yourself to the East Railway Station. You can take the Paris subway to arrive at this station. This makes it very easy to visit Reims, no matter where in Europe you're arriving from.
You don't have to have tickets for the train in advance, but during busy times we do recommend buying them in advance to make sure you can get a seat. There have been times that the train has been full and we've had to take the next one. You can purchase tickets in advance on Trainline.com.
The train journey to Reims is only about 45 minutes. If you plan to go to Epernay – another of the nearby major Champagne cities – you can continue on from Reims on the TER train, which departs every 30 minutes and takes around 40 minutes to get there.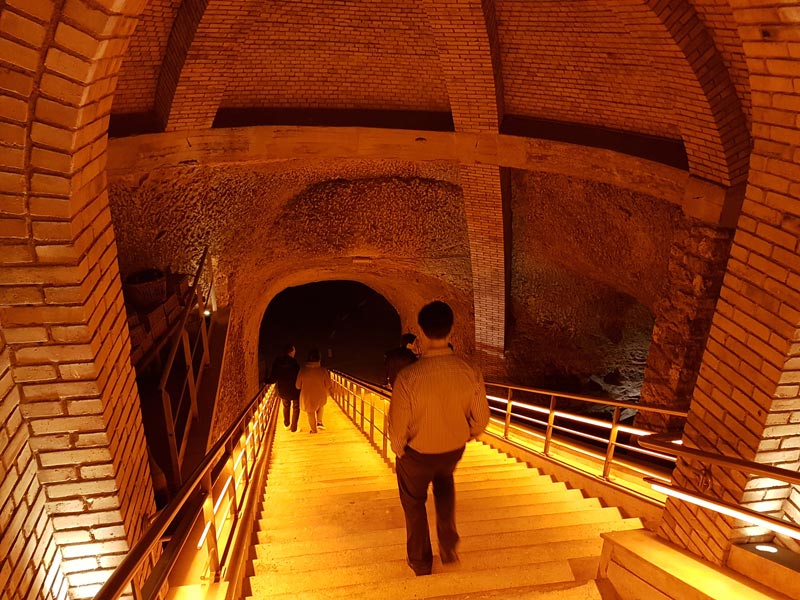 How to Get Around in Reims
One of the big questions that is often asked by tourists coming to Reims on a day trip from Paris is how to get around to the Champagne house. There are three convenient ways to get around. You can choose your method based on your own needs:
Walk: It's actually quite easy to walk around Reims. The biggest hurtle is getting from the train station (or center of Reims) to the area where you find most of the Champagne houses. This is about a 2 mile walk (40 mins). If you don't want to take this initial walk, you can take a quick Uber or taxi ride from the train station. We recommend starting at Veuve Clicquot, as it's the furthest way from town (2 miles). To walk between any of the 5 Champagne houses mentioned, it will take you about 5 minutes or less.
Uber or Taxi: If you can't or don't want to walk, you can take an uber or taxi from the train station to any of the Champagne houses. Once you're ready to go on to the next, you can call another Uber or taxi to take you there.
Rent a car: There is a convenient place near the train station to rent a car for the day. In fact, it's just a few steps outside the door to the train station. It'll cost around 40€ to rent a car for a day. We recommend using Expedia to book your rental car.
If you're staying overnight in Reims, you'll quickly learn that there isn't a huge selection of hotels. We stayed at Best Western Premier Hotel de la Paix. If you're looking for a more luxury stay, try the Chateau Les Crayeres.
⇒ Be sure to check out our list of the drinks you should try in France. There's so much more to enjoy beyond the Champagne.
See the map below for directions to your Reims Champagne tours.
CONCLUSION
Once you've visited a few of these top Champagne tours in Reims, you'll have a much better understanding of how Champagne is made and the history behind the industry and their unique stories.
It's a great way to expand your knowledge of the craft and appreciate it even more than you probably already do. If you have a favorite Champagne house you want to share with our readers, leave us a comment!
Related Posts:
Like this post? Why not pin it on your Pinterest board to share with others.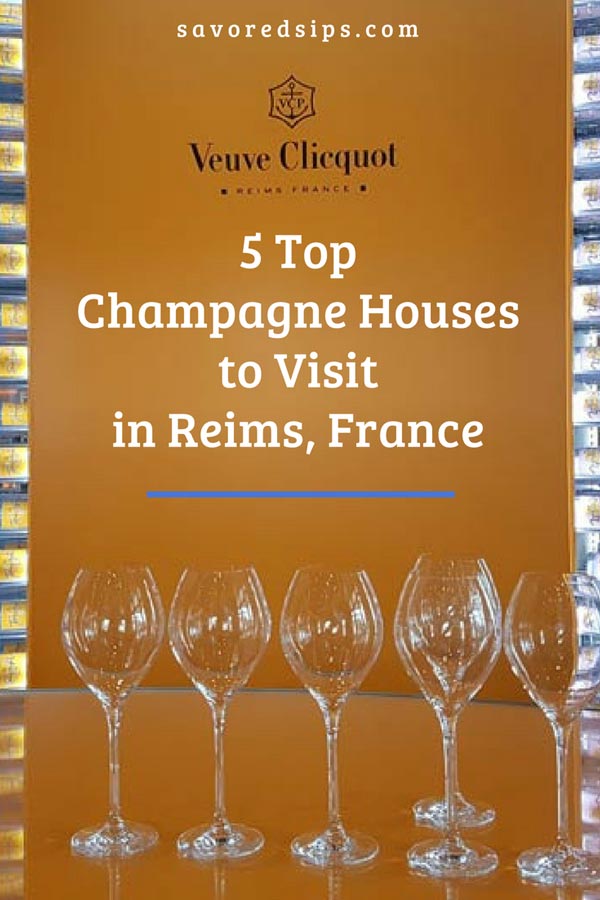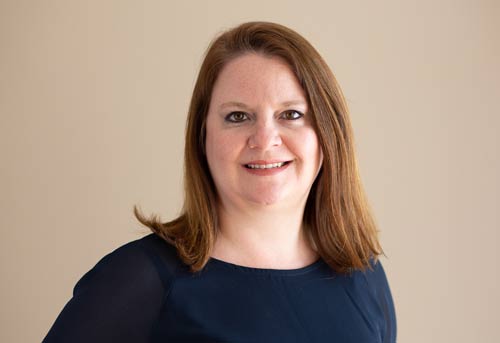 Laura is the founder and editor of the travel blogs Savored Sips and Savored Journeys. She is dedicated to sharing the best information about drinks found around the world.